Why You Shouldn't Dismiss Using Tech to Engage Elderly Patients
Brent Walker, SVP Marketing & Analytics
|
April 21, 2017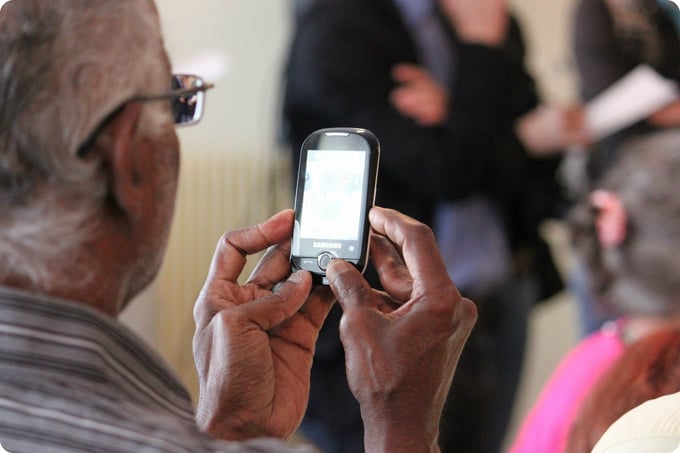 Just a few years ago, a tongue-in-cheek TV ad featured an older woman literally posting pictures on her living room wall and unfriending a guest in person, while the more tech-savvy guest says: "That's not how this works. That's not how any of this works."
The popular ad generated plenty of laughs, but it also perpetuated the myth that older adults are woefully behind when it comes to technology adoption.But if you aren't using senior care technology to improve engagement with elderly patients, you could be missing an opportunity.
---
"Not all seniors are embracing technology equally"
---
According to an Accenture survey, 67 percent of tech-savvy seniors would like to access healthcare services from home. The survey also showed that seniors who embrace technology demonstrate a greater propensity to proactively manage their health, such as using an app to track weight or a wearable to track activity.
Seniors are Overcoming Technology Resistance
When the Pew Research Center conducted research into the use of technology by older Americans a few years ago, it introduced the results by saying, "America's seniors have historically been late adopters to the world of technology compared to their younger compatriots, but their movement into digital life continues to deepen."
For example, 59 percent of seniors now use the internet, and based on a national telephone survey conducted by the Advanced Communications Law and Policy Institute (ACLP) at New York Law School and Older Americans Technology Services (OATS), the top three reasons for using the internet are to:
Communicate with family and friends more easily — 75 percent

Shopping for products or services — 58 percent

Get information about healthcare or medical issues — 53 percent
The Pew Research findings did come with a caveat: not all seniors are embracing technology equally. Seniors who participated in the study fell into two distinct groups: Younger, educated or affluent seniors who view internet usage very positively or older, less affluent seniors who remain "disconnected from the world of digital tools and services." Looking at three specific factors — age, education and income — paint a clearer picture.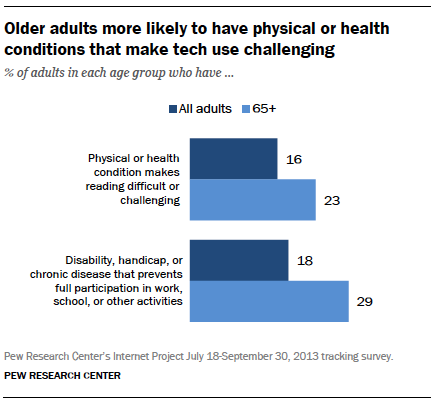 Age

: Seniors under the age of 75 tend are more likely to embrace technology that those 75 years of age and older.

Education

: 87 percent of seniors with a college degree go online while those without a college degree 47 percent less likely to use the internet.

Income

: 90 percent of seniors with annual incomes of $75,000 or higher go online and 82 percent have at-home broadband. By contrast, among seniors with incomes under $30,000, only 39 percent go online and 25 percent have at-home broadband.
These factors suggest that healthcare providers have a clear opportunity to connect with younger, well-educated or affluent seniors using technology, but hospitals must help elderly patients overcome multiple challenges — beyond age, education and income — to reach more tech-resistant seniors. Two in five seniors, for example, reported health issues — ranging from poor eyesight to more substantial disabilities that curtail activities of daily living — as barriers to using technology.
In addition, 77 percent of seniors reported a lack of confidence in learning to use the latest technologies, revealing a need to provide active instruction on the use of senior care technology. Even among those who go online, more than half say they would need help to use a social media platform like Facebook®.
Using Patient Engagement Technology with Elderly Patients
The Accenture study, along with an AARP report, indicated several areas that represent prime opportunities to leverage technology among tech-savvy seniors.
More than two-thirds say they would prefer to use self-care technology for health management.

25 percent regularly access their EHR to review the records or access lab results.

Over 60 percent express willingness to use a wearable health monitoring device.

60 percent also report being somewhat or very likely to engage with health-related online communities to gather opinions about a doctor's recommendation before following it.
But what about the technology divide that Pew Research uncovered among the older, less educated, less affluent seniors? Patient engagement technology can help hospitals and other healthcare providers bridge the gap.
---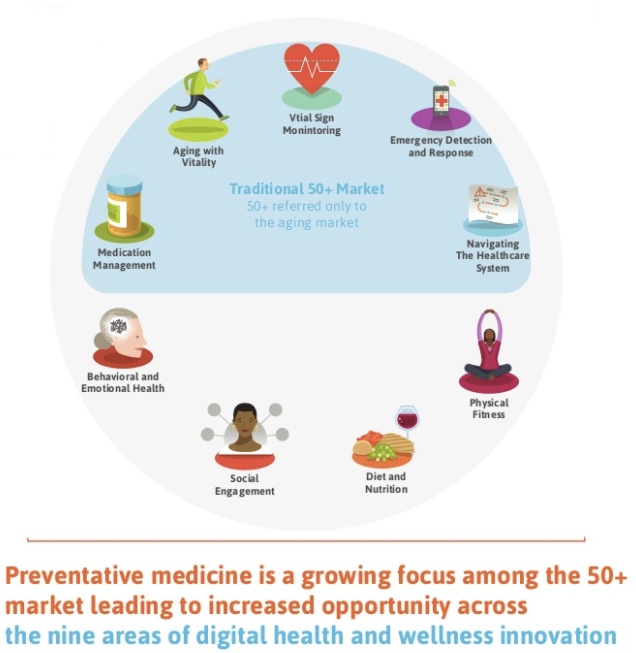 ---
The PatientBond platform, for example, enables you to connect with patients for wellness education and reminders, chronic disease management or medication reminders via each patient's preferred method of contact — email, text or Interactive Voice Response (IVR). Each method includes easy-to-use response mechanisms, allowing elderly patients to engage regardless of their comfort-level with technology.
And because the platform leverages psychographic segmentation, hospitals gain insights into the attitudes and beliefs of individuals so the messages delivered are highly relevant communications that motivate health behavior changes.
One of the largest nonprofit hospital systems in the U.S. has been using PatientBond to reduce readmissions for Congestive Heart Failure (CHF). PatientBond sends communications to patients with messaging customized to the patients' psychographic "healthcare personalities," and in six months reduced readmissions from 18 percent to less than two percent. Most of these patients are over age 65, and many are from rural and Appalachian communities. This hospital system surveyed these CHF patients and found that 95 percent liked getting the digital communications and found them very helpful.

Ultimately, the results of these studies — and the millions of Boomers who are entering their Senior years — mean, as Kaveh Safavi M.D., global managing director of health business at Accenture notes, that healthcare systems "… need to consider the role that digital technology can play in making healthcare more convenient for patients of all ages at every touch point."
---
---