Urgent Care Centers Should Look To Partner with Payers and Providers to Thrive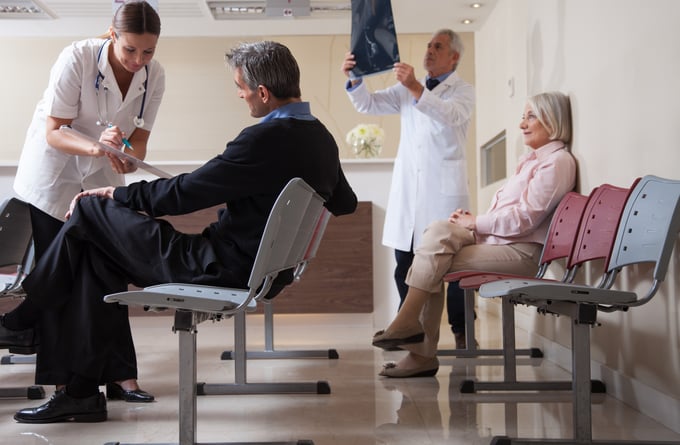 The urgent care market is exploding. According to a recent report, there are currently over 10,000 urgent care clinics (UCC) throughout the United States.
Much of this growth is due to hospitals and health systems establishing their own urgent care clinics. Unfortunately, smaller, privately owned UCCs are feeling pressure as these larger organizations enter the marketplace.
"The data is showing that these large organizations are slowing down on their acquisition of primary care practices, and they are using urgent care to provide convenience to their patient base," said Mike Schiller, senior vice president of PatientBond. "UCCs are growing quickly because they can play a very important part in the continuum of care in a value-based environment. Like a doctor's office, a UCC can be the first point of contact with the patient and can point patients in the direction to get the best health outcome for the appropriate cost."
Traditionally thought of as a quick fix for patients with acute illness and injuries, UCCs are increasingly filling a role in the shifting healthcare landscape. By providing non-emergency services at lower rates, convenience, and as an easy way to receive wellness related visits, UCCs are increasingly playing an important part of value-based care.
In order to stand out from the crowd, small and mid-sized UCCs should market themselves to both payers and providers in order to become part of a network.
"It's incredibly important to form strategic partnerships," said Schiller. "In the past two or three years you've seen the number of urgent care centers grow considerably, and the reason is that they are that first point of care. So, not only can urgent care centers become a valuable part of the value-based care continuum, doing so could be essential for the viability of many small centers. But it is up to the UCCs to show that they have value in three areas: understanding their demographic opportunity, brand awareness, and loyalty within their patient base and ability to drive good outcomes at a lower cost."
Demographics
The first way a UCC can highlight their value is by demonstrating they have a complete understanding of their population and payer mix.
"A lot of it is around promoting the convenience of their location and the services they provide to the patient population that they serve. For example, if they have a large commercial base or they have a large Medicaid or Medicare base, they may be attractive to particular institutions based on the payer base they have in their communities that they can market to," said Schiller.
Brand Awareness
The next step is for a UCC to showcase that the surrounding population is aware of the UCC's brand and has a loyal patient base.
"It is very much a marketing effort of building their brand around school physicals, flu shots, wellness visits, and non-acute related injuries as a first-stop shop," said Schiller.
"Keeping people aware of all the services they provide through nurturing the patient population once they've been to the facility is essential. A rule of thumb may be 'you need to touch somebody seven times before they recognize what to do'. It's all about making sure their population knows what the UCC is doing through social media and marketing campaigns."
Good Outcomes at Lower Costs
The final step is for UCCs to promote and understand their role in the value-based continuum through their capability to lower healthcare costs.
"UCCs have the ability to drive costs down and drive patients outcomes, for example, by keeping patients away from the emergency room. The price point of a patient that goes to the ER is 15 times what it is to go to an urgent care center. If they show great outcomes through data and patient feedback while limiting unnecessary trips to an emergency room or hospital, then the UCC is an attractive, lower-cost option," said Schiller.
How Technology Can Help
Traditionally, UCCs have existed outside of systems, as a quick fix for patients with acute health problems. This shift to thinking of themselves as an essential part of value-based care and marketing to payers and providers will require changing their mindset to focus on creating relationships with patients.
"An example is that somebody presents with a minor back strain, and the urgent care center recommends that they go see a chiropractor. The UCC would then need to follow up to ensure the patient followed the recommendation and see how well they've progressed as a result. So, now you're getting verification of a visit and the result of the treatment from your recommended care plan. Depending on the results of the patients' responses you can determine any exceptions and take appropriate actions. In many cases this is really cost avoidance outcome management," said Schiller.
"This is where a solution like PatientBond's is valuable. Not only do we push the communication out, we actually get a response that some action is taken in response. So, in the example of the chiropractor, we will send a note asking, 'Did you schedule an appointment with the chiropractor?' And maybe after three visits to the chiropractor we will ask, 'Is your back feeling better?' so that we are actually monitoring the patient's response to the episode of care. The key is actually getting the response, and that's where psychographic segmentation really comes into play and is incredibly valuable. The combination of our adaptive technology and segmentation model tailors the message to the patient in a way that is most likely to get an actionable response."
According to a recent essay by Laurel Stoimenoff, CEO of the Urgent Care Association of America, "when included in networks, urgent care centers play a key role in helping payers meet the Centers for Medicare & Medicaid Services' Triple Aim goals – the pillars of the value-based model – while also working toward MACRA requirements."
"Everybody in this day and age knows getting an appointment with the doctor can be a challenge, and when you need something fixed you need it fixed quickly," said Schiller. "And pushing them away from the more expensive areas of the ED or ER is really important. That's why UCCs are playing a major role, and that's why they are growing more. Again more than anything it's convenience but also because it's a feeder that allows a health system or payer to control the flow of care, which is how they drive down costs and still provide the same long-term value."
The PatientBond solution can help you build relationships with your patients while gathering the necessary data to highlight your UCC's value to health systems and payers.
Click here to discover how PatientBond helps urgent care centers:
Automate follow-up visits, consistently and effectively, throughout a patient's lifecycle
Improve patient satisfaction scores through "real time intercept" and individual follow-up to a negative survey
Reactivate patients through relevant messages and digital touchpoints
MIKE SCHILLER, SENIOR VICE PRESIDENT
Mike brings more than 25 years of experience exclusively in the healthcare information technology market. Prior to Patient Bond, he was CEO of MedEvolve, Inc. and was responsible for all employee opportunity, client success, company growth and profitably. He is a proven executive that has built and led several sales organizations that provided solutions and services in the acute, ambulatory and radiology markets, resulting in significant growth and client loyalty including Streamline Health, Allscripts, GE Healthcare, IDX Systems Corporation and Caremark International.
Mike has a BA in Political Science from the University of Kansas and an MBA from Keller Graduate School of Management. Mike resides in Denver, CO with his wife and two children.
---
---