Presenting at 2017 AHA Health Tech & Innovation Forum| PatientBond
Brent Walker, SVP Marketing & Analytics
|
October 12, 2017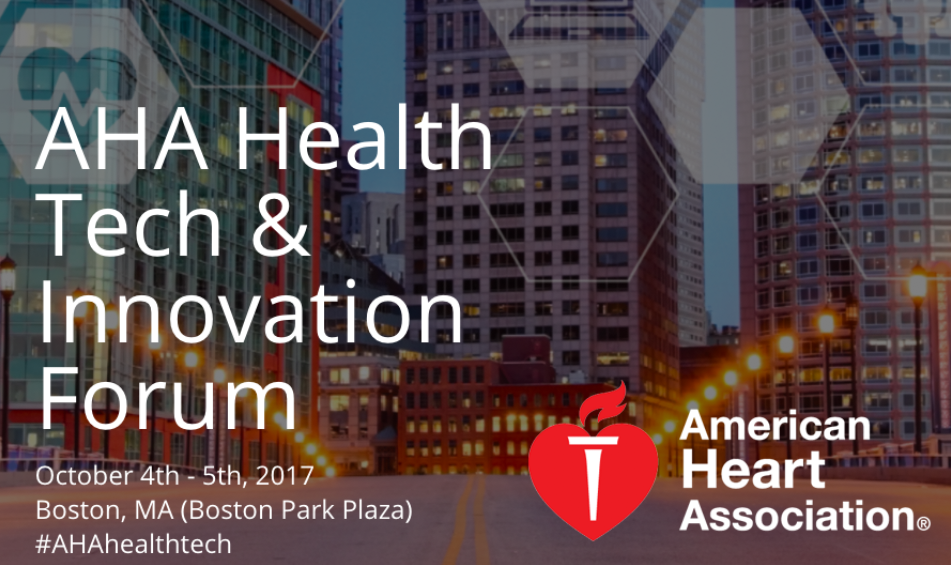 The 2017 American Heart Association Health Tech & Innovation Forum was held Oct. 4-5 in Boston, Massachusetts. The annual event was designed to increase collaboration between leaders in clinical outcomes and health technology and drive consideration of how technology can measurably improve health outcomes. In attendance were nearly 200 thought leaders and C-suite executives from top healthcare institutions across the U.S.
PatientBond is grateful that it was asked to speak at this invite-only event, and Brent Walker, SVP Marketing & Analytics for PatientBond, gave a presentation titled, "Reducing Hospital Readmissions Through Psychographics & Technology."
In his presentation, Walker explained psychographic segmentation and how it is used by PatientBond to personalize digital engagement and drive patient behavior change.
This provided foundational context for the audience to understand how PatientBond was employed by a large health system to reduce 30-day hospital readmissions for Congestive Heart Failure (CHF).
Psychographic Segmentation + Adaptive Technology
PatientBond undertook a five-month pilot at a prominent health system to reduce CHF readmissions. This involved classifying discharged patients according to one of five distinct psychographic segments by having patients answer a simple 12-question survey.
"Psychographics pertain to people's attitudes, values, lifestyles and personalities, and are core to their intrinsic motivations and communication preferences," Walker said. "If you know the psychographic segment to which a patient belongs, you can engage them with messaging that resonates more strongly and enhances the likelihood of influencing positive health behaviors."
PatientBond personalizes communications according to the segment to which a healthcare consumer belongs:
Self Achievers

motivated by goals and measures

Balance Seekers

weigh all options, not just those offered by healthcare providers

Willful Endurers

living in the moment and resistant to health-related lifestyle changes

Priority Jugglers

focused on family and work obligations ahead of self

Direction Takers

looking for clear, specific instructions to follow
Patients were then sent a series of 14 digital communications over the 30 days post-discharge, consisting of emails, text messages and Interactive Voice Response phone calls personalized with messages specific to the patient's psychographic segment.
---

---
Each communication provided important information to facilitate a successful recovery, as well as patient response mechanisms (e.g., short surveys) to gauge patient recovery and comprehension of the education. Call center nurses could monitor patient engagement with a dashboard that tracked patient responses.
PatientBond Achieved a Significant Reduction in CHF Readmissions
While the average 30-day CHF readmission rate is over 20 percent nationally, the health system in which the pilot was conducted had achieved a better 18.5 percent readmission rate prior to the PatientBond pilot.
The primary objective of the PatientBond pilot was to improve this health system's CHF readmission rate. The secondary objectives were to maintain or improve patient satisfaction with the hospital discharge and follow-up process while minimizing disruption to the nurses' workflows.
There were 315 CHF discharges over the course of the five-month pilot, and PatientBond achieved the following results:
90 percent reduction in 30-day all-cause readmissions

(from 18.5 percent to <2 percent)

62 percent patient response rate to 14 waves of psychographic communications

Typical email and text message response rates for non-segmented messaging averages <5 percent (

Harvard Family Research Project

)

94 percent of patients (age 65+) liked the electronic discharge process and digital communications

This helped overcome an assumption help by the health system that senior patients are not as likely to prefer digital communications

The nurses also had a high level of satisfaction with the platform.

While it took a little extra time to administer the 12 segment classification questions, the process did not significantly disturb the nurses' workflows. It was also important to share feedback with the nurses on the results of pilot to secure ongoing advocacy.
The health system participating in the pilot considered it a success and is looking at ways to expand the platform beyond CHF to other health conditions and readmission opportunities.
Looking Forward: Collaboration with the American Heart Association to Prevent Cardiovascular Disease Progression
PatientBond is now working with the American Heart Association Center for Health Technology & Innovation to expand beyond hospital readmissions to reduce initial admissions through the prevention of cardiovascular disease progression.
The American Heart Association has a wealth of patient education and care guidelines for the prevention and treatment of cardiovascular conditions. The PatientBond platform can engage healthcare consumers with this information in a format and language that resonate with them and enhance the likelihood of patient activation.
The three areas of collaboration include:
A 12-week program on heart disease prevention for the general population

A 12-month program for prevention and management of specific conditions like AMI (Acute Myocardial Infarction), CABG (Coronary Artery Bypass Grafting) and stroke

30-day hospital readmission reduction programs for CHF, AMI and CABG
PatientBond is excited by the opportunity and looks forward to helping patients and providers improve cardiovascular health by working with such a high-caliber organization like the American Heart Association.
---
---