How to Get Patients Invested in Recovery & Reduce Readmission Rates
Brent Walker, SVP Marketing & Analytics
|
November 10, 2016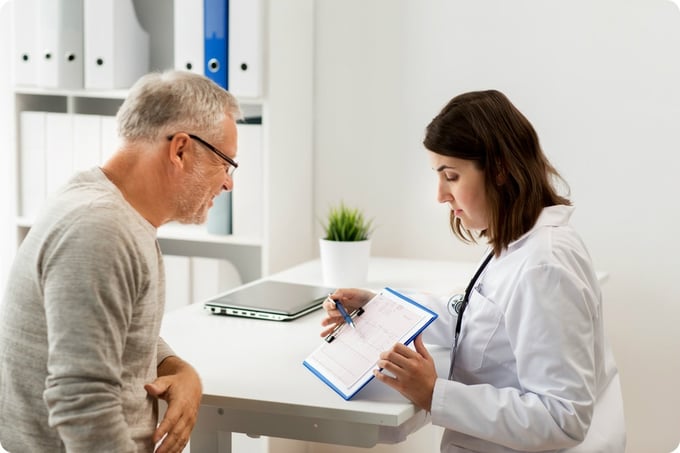 Encouraging patients to become more engaged in their own recovery always poses a challenge, but at this time of year, it's even harder. Even the most health-conscious people tend to give in to the hustle and bustle of a season filled with cookies and cocktails.
But make no mistake: With more than 78 percent of hospitals subject to the Centers for Medicare and Medicaid Services (CMS) Hospital Readmission Reduction Program (HRRP) penalties for FY2015, hospitals need to tackle post-discharge patient engagement year round — even during the holidays. And that's especially true for teaching hospitals, as well as those that serve a high percentage of low-income patients, which the Kaiser Family Foundation reports are particularly vulnerable to preventable readmissions.
But health literacy and economic factors aren't the only factors hospitals must consider when it comes to reducing readmission rates.
Treat Patients Like Individuals
Patient engagement is a top priority among hospital leaders. According to The Advisory Board Company's annual survey of healthcare CEOs, 45 percent of hospital executives are focused on implementing effective patient engagement strategies. In addition, notes an article in Patient Engagement HIT, the 2016 HIMSS Connected Health Survey found that hospitals use a wide range of tools—patient portals, patient education/patient engagement apps, remote monitoring systems, telehealth technology and more.
---
To impact adherence to post-discharge plans, you need to understand—and cater to—the differences.
---
Why, then, are efforts to motivate patients to adhere to discharge plans still falling short? Because the one-size-fits-all messaging doesn't work — regardless of how it's delivered. Despite similarities in diagnoses or demographics, healthcare consumers don't share the same attitudes about health and wellness. To impact adherence to post-discharge plans, you need to understand — and cater to — the differences. How do you figure out what will work?
Psychographic segmentation helps you identify unique characteristics of patients, empowering you to reduce readmission rates by driving up engagement. We've identified five distinct psychographic segments of healthcare consumers: Balance Seekers, Willful Endurers, Priority Jugglers, Self-Achievers and Direction Takers — each of which has different needs, preferences and expectations when it comes to healthcare experiences.
---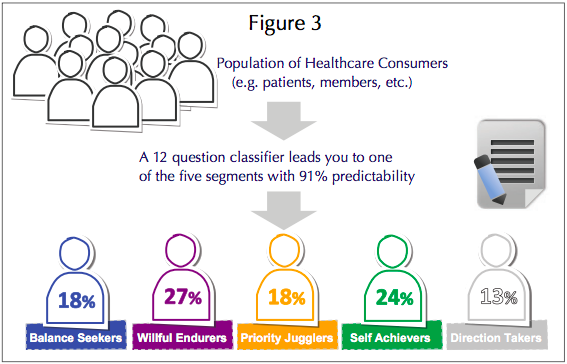 (From the Whitepaper: Psychographic Segmentation)
---
Understanding what makes these different types of patient tick enables you to develop messages that resonate with individuals. For the Priority Juggler, that could mean pre-admission messages with tips for a quick recovery. For the Self-Achiever, that could mean follow-up messages focused on recovery goals.
Implement the Right Combination of Technology & Messages
Using an automated patient engagement platform that leverages psychographic segmentation improves your ability to engage patients and reduce preventable readmissions even further. How does it work? A system like PatientBond addresses four key aspects of the patient experience.
---
Instructions and educational content provided to patients before and after discharge help ensure that patients have the information they need for a successful recovery.
Recovery tracking, based on click responses in patient communications, allows clinical staff to stay alert to potential problems, ensuring they can focus on patients with the highest risk of readmission.
Automated reminders via email, text, or interactive voice response to encourage patients to follow through with post-discharge appointments or to contact clinical staff with questions.
Reminders to support medication adherence, including surveys so that clinical staff can identify potential issues.
---
Keeping the lines of communication open — and flowing — helps hospitals monitor patient progress more effectively. And because the messages are fine-tuned to appeal to patients based what motivates them, engagement rises.

In addition, this automated process frees up hospital clinical staff. Automation cuts down on the day-to-day management of every discharged patient. Instead, hospitals stay in touch with regular communications that incorporate easy-to-use response mechanisms, allowing fast monitoring of patient progress. This, in turn, allows clinical staff to concentrate proactive interventions on the patients who need it most.

The pressure to reduce patient readmissions is only going to climb. For fiscal year 2017, the penalty for excessive readmissions for conditions covered in the Hospital Readmission Reduction Program will rise. Do you have an effective, cost-efficient patient engagement program in place?
---
---