🎮 How Technology is Changing Stroke Rehabilitation
Brent Walker, SVP Marketing & Analytics
|
May 26, 2017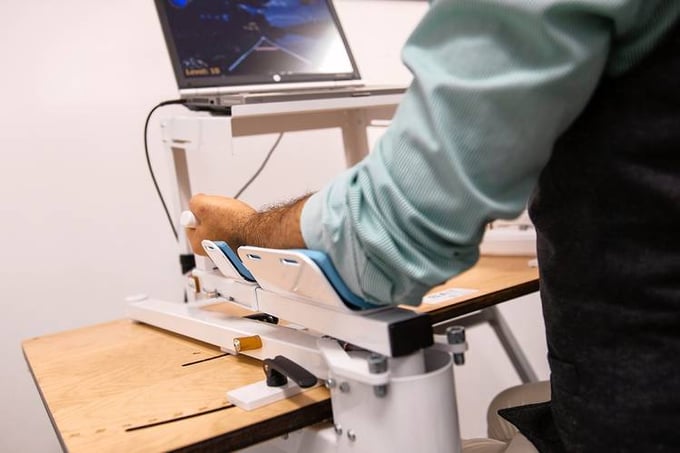 A canoeing videogame at NYU Langone can help stroke patients rehab a paralyzed hand.
PHOTO: ANDREW NEARY/NYU LANGONE MEDICAL CENTER
In the past, you might have taken your elderly parents to the doctor or the local pharmacy for a periodic blood pressure check. Today, you can buy them an easy-to-use blood pressure machine for under $50 to monitor their blood pressure daily.
But that's not exactly earth-shattering senior care technology. So where is innovation taking place when it comes to strokes? Stroke rehabilitation technology. Here are just a few of the advances in hardware and software that are transforming the traditionally low-tech world of stroke rehabilitation.
Strokes: The leading cause of long-term disability
Every year, says the National Stroke Association®, 795,000 American adults suffer a stroke. As the name implies, strokes are unpredictable — a sudden "brain attack" that can have a mild or devastating impact, depending on the area of the brain affected and the severity of the stroke.
---
Some key stroke facts:
10 percent

of stroke victims make a nearly complete recovery.

10 percent

require long-term care following a stroke.

15 percent

die shortly after having a stroke.

---
That means that 65 percent of stroke patients require some level of rehabilitative therapy. That can range from relearning basic activities of daily living (ADLs) such as speaking, managing personal hygiene or getting dressed to building back strength and dexterity in the affected limbs. Years ago, the tools of the stroke rehab trade often looked more like toys from a primary school classroom.
Is it post-stroke therapy or a game?
Today, all that has changed. During this year's Consumer Electronics Show (CES 2017) in Las Vegas, for example, the Rapael Smart Glove from South Korean company Neofect, captured the attention of many. CNN reports that the glove and Android tablet combo, which is already in use in hospital settings, can now be rented for $99 a month to facilitate at-home rehab.
The benefits? By turning boring, repetitive exercises for strengthening hand and arm muscles into games, patients are more like to stay engaged with their rehabilitation plans. And the sensors capture valuable data that doctors can use to monitor frequency of use and improvements in strength and dexterity.
Of course, this isn't the first time that gamification has been leveraged for elder care technology. The Nintendo Wii won favor when in 2014 when an Australian team of researchers conducted a study comparing constraint therapy to a modified Wii game. The constraint therapy patients wore a restrictive mitt on their functional hand to force them to use the stroke-affected hand more.
---
View More:

📉 Reducing Hospital Readmissions: A PatientBond Case Study [PDF]
---
Although the constraint therapy proved effective, most patients found it frustrating to wear the mitt all day long and stayed less engaged over time. The Wii users, on the other hand, only spent three or fewer hours a day and reported that they enjoyed the therapy and were willing to continue it beyond the study period. One doctor involved in the study said, "We've seen improvements in cognitive and memory and mood as well, and we know it is translating into completely unrelated activities in daily living."
Last year, the Wall Street Journal highlighted another type of stroke rehabilitation technology being tested at NYU Langone that uses a simulated canoeing device to engage both arms at the same time. The technology for stroke patients was inspired by previous research that found that using an uninjured arm can aid in retraining the stroke-affected arm. One of the patients participating in the clinical trial says the device encourages him to stick with the therapy, noting, "Two minutes in, you forget you're doing exercise and you feel like you're playing a game."
---
---
Virtual reality (VR) is also gaining traction for stroke rehabilitation. As the WSJ article reports, "… immersive environments may offer the greatest promise to stroke patients because they address cognitive problems along with sensory and motor problems."
Engaging patients before and after a stroke
While we're seeing exciting developments in stroke rehabilitation technology, healthcare providers also need to consider patient engagement technology to move the needle on chronic disease management. The biggest risk factor of stroke is high blood pressure (HBP), a chronic disease that the CDC says affects one out of every three adults — nearly three-quarters of whom are 65 or older.
A platform like PatientBond offers flexibility in messaging and communication channels so that healthcare providers can improve engagement with patients for preventive education, to improve chronic disease management and to drive ongoing compliance with stroke recovery plans. PatientBond automates emails, text messages and Interactive Voice Response (IVR), customizing its communications according to the patient's psychographic profile to motivate positive behavior change.
This approach may be more relevant for stroke prevention rather than post-stroke intervention with patients, given physical and cognitive limitations. However, PatientBond can also engage caregivers with information, education and resources. Each communication has embedded response mechanisms (e.g., links in emails, surveys, "press 1 or 2" answers to phone call queries) to capture patient/caregiver feedback and monitor rehabilitation/recovery status.
Ongoing, consistent engagement can extend care beyond the walls of the practice and help facilitate a smoother recovery during the healing process. And that would be the most exciting breakthrough of all.
---
---