Can Hospitals Use Family Caregivers to Reduce Readmission Rates?
Brent Walker, SVP Marketing & Analytics
|
November 18, 2016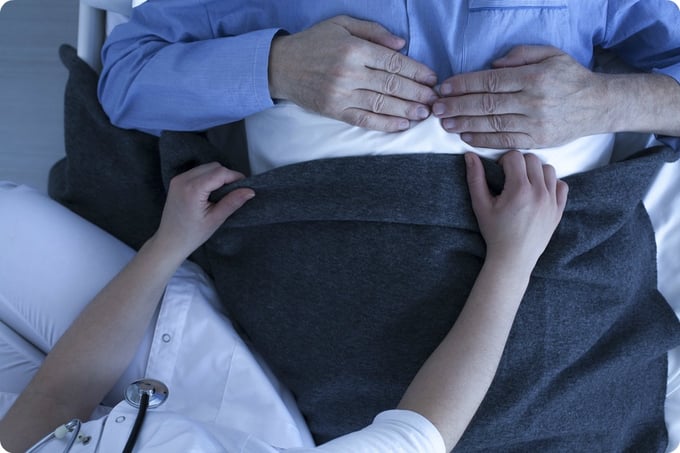 The Caregiving in the U.S. 2015 report, researched and published by the National Alliance for Caregiving (NAC) and the AARP Public Policy Institute, reveals that approximately 43.5 million American adults provided unpaid care to an adult or child in the previous 12 months. Yet this year, more than half of our nation's hospitals face penalties for preventable readmissions under the Centers for Medicare and Medicaid Services (CMS) Hospital Readmissions Reduction Program (HRRP).
---
Hospitals need to think beyond the 30-day readmission goal post to one that extends to 90 days post-discharge.
---
Are they overlooking a valuable resource in their efforts to reduce hospital readmissions? Perhaps, but the tide is shifting, according to an article in Becker's Hospital Review. "Whether it is the spouse, adult child or a loved one of a patient, hospitals and health systems are just beginning to recognize the importance of the informal caregiver's involvement in the care plan — from selection of provider, to interaction with the provider, throughout treatment, getting prescriptions filled, and to discharge planning and putting in place support systems," notes the article.
Pressure to Engage Family Caregivers Rises
It's not just the Hospital Readmissions Reduction Program that is shining a spotlight on the role of caregivers in improving patient health outcomes. Earlier this year, the CMS introduced new bundled payment programs for post-acute care for Medicare patients receiving hip or knee replacements, as well as those with hip and femur fractures, heart attacks and coronary bypasses.
This means hospitals need to think beyond the 30-day readmission goal post to one that extends to 90 days post-discharge — when they typically have little interaction with patients. Unless a hospital enjoys collaborative relationships with healthcare providers across the entire continuum of care, family caregivers represent a critical means of staying engaged with a patient over an extended period of time.

Another concern for hospitals is the Caregiver Advise Record and Enable (CARE) Act. In 2013, Oklahoma became the first state to pass the CARE Act. The legislation, championed by AARP, requires hospitals undertake three specific actions with regards to family caregivers:
---
1. Record the name of the family caregivers in the patient's medical record;
2. Inform the identified family caregivers when the patient is to be discharged;
3. Provide the family caregivers with education and live instruction to prepare them for administering medications, caring for wounds or undertaking other medical tasks on behalf of the discharged patient.
---
Since Oklahoma passed the law, 42 states and territories have introduced the CARE Act in their legislatures, 32 have passed it and 29 more have enacted it into law. As a result, hospitals in Arkansas, California, Colorado, Connecticut, District of Columbia, Illinois, Indiana, Louisiana, Maine, Maryland, Michigan, Minnesota, Mississippi, Nebraska, Nevada, New Hampshire, New Jersey, New Mexico, New York, Oklahoma, Oregon, Pennsylvania, Puerto Rico, Rhode Island, Utah, Virginia, Virgin Islands, West Virginia, Washington and Wyoming have an additional incentive to collaborate with family caregivers.
As AARP vice president of state advocacy and strategy Elaine Ryan points out: "While not all readmissions can be prevented, research shows hospitals can use effective strategies to avoid many of them. Patients and their family caregivers want and need to play their part in reducing readmissions, and the CARE Act is an important step that will help them share in this responsibility."
4 Considerations for a Caregiver Engagement Strategy
In order to connect with caregivers, hospitals first need to recognize that not all caregivers are alike. Just as patients fall into different psychographic segments that influence how they perceive health and wellness, who they trust to provide healthcare advice and where they seek out that advice, caregivers also have unique "health personalities" that influence these considerations. As the following chart illustrates, caregivers for parents/older patients fall across the segment spectrum, but many of them are Willful Endurers.
---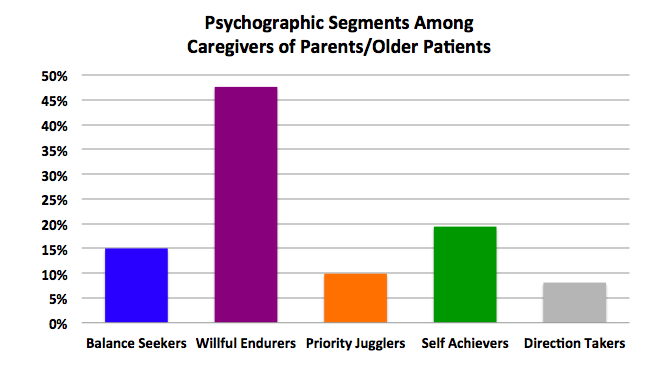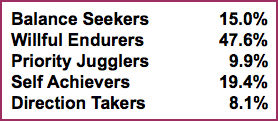 ---
Willful Endurers are unique in their motivations and communication preferences; what works for this psychographic segment may not work for caregivers in the other segments. By fine-tuning your hospital's engagement efforts based on these unique motivations and beliefs, you are more likely to activate caregivers as partners in preventing readmissions.
But when do you need to communicate with these family caregivers?
1. Before hospitalization is needed.
That's right — before. Many family caregivers are already involved with a loved one that has medical concerns, so they play an important role in choosing who provides medical care. While they have their loved one's interests in mind, family caregivers also need reassurances that a physician or hospital won't treat them as an interloper or a burden. Creating content on the hospital website, on social channels and in other venues that emphasizes a desire to work with family caregivers and outlines how to make that happen can be a catalyst for higher caregiver involvement.
2. With admission.
Or sooner, if the admission is planned. Because family caregivers are so important to execution of care plans, it pays to engage them as early as possible. Create a process that enables patients to designate who can receive information about their care to ensure HIPAA compliance while also facilitating open dialogue with family caregivers. Another critical component of a hospital's caregiver communication plan rests on preparing caregivers for the patient's discharge, including informing them about support resources and more.
3. Pre-discharge.
Because family caregivers are instrumental in keeping patients on track with discharge plans, hospitals must prepare those caregivers in advance. In addition to informing them of the discharge instructions, they need to ensure they understand medications that are prescribed, follow-up visits needed and any specialized needs — such as wound care — that caregivers may have to address.
4. Post-discharge.
Keeping lines of communication open with family caregivers is particularly critical once the patient leaves the hospital. Family caregivers often struggle — juggling jobs and the needs of their immediate family while supporting their loved one's daily living and medical needs. Becker's Hospital Review notes that "Too often, there is little effort to communicate with these caregivers and to provide them with information and resources that can empower them and increase their confidence in being more engaged."
Writing in the Journal of Internal Medicine, Laurie Barclay, MD, says, "By recognizing the importance of the caregiver role, hospitals and physicians can facilitate a positive caregiving experience, thereby reducing rates of patient hospitalization and readmission."
Of course, with limited personnel resources, hospitals need to leverage the right tools to facilitate the caregiver engagement process. An automated patient engagement solution like PatientBond empowers hospitals to maintain relevant, timely two-way communications that support family caregivers more efficiently.
Given the demands of the Hospital Readmissions Reduction Program, new orthopedic and cardiac bundled payments programs and the CARE Act, communicating effectively with caregivers should be a top priority for hospitals now and for the foreseeable future.
---
---