5 Things Urgent Care Centers Can Take Away from Restaurant Chains 🍽
Brent Walker, SVP Marketing & Analytics
|
July 19, 2017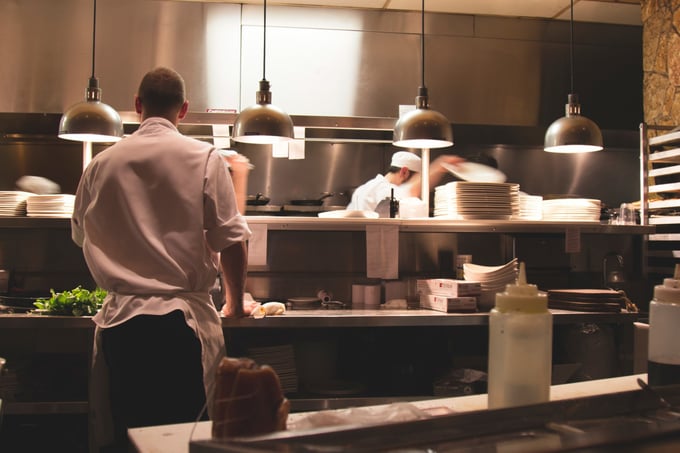 A decade ago, The New Yorker published an article called "The Checklist" that featured Peter Pronovost, M.D., Ph.D., who famously developed a simple, evidence-based checklist for reducing bloodstream infections due to central catheters. Dr. Pronovost, who is now the director of the Armstrong Institute and senior vice president for patient safety and quality at Johns Hopkins Medicine, said at the time that "The fundamental problem with the quality of American medicine is that we've failed to view delivery of healthcare as a science."
---
"The fundamental problem with the quality of American medicine is that we've failed to view delivery of healthcare as a science."
---
A few years later, The New Yorker again focused on the challenges faced by the healthcare industry — and found inspiration for optimizing performance at the Cheesecake Factory. Both approaches share some similarities and given the rise of healthcare consumerism, multi-site urgent care centers would do well to draw upon lessons learned to drive urgent care patient engagement and satisfaction.
The Recipe for Successful Urgent Care Patient Experiences
We know that evidence-based checklists work. Dr. Pronovost's checklist for reducing line infections, for example, resulted in 1,500 lives saved and a reduction in annual healthcare costs of $100 million. Despite the recognizable benefits, however, such checklists and the processes used to effectively implement them are not implemented consistently across the healthcare landscape — and as successful restaurant chains show, dependable performance can help urgent care centers serve patients at a reasonable cost and with a consistent level of quality so they come back again when in need of care. Let's look at how some restaurant chains manage it.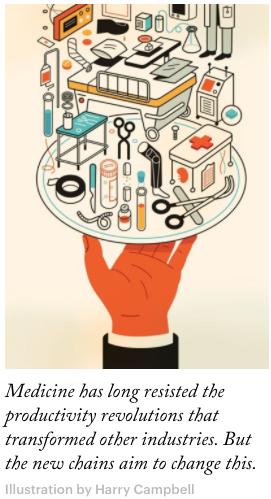 1. Create an efficient system for serving customers.
At popular chain restaurants, customers return again and again because they like the food, the service and the price. But that doesn't happen by accident. The New Yorker article took a behind the scenes look at what goes on in the kitchen and noted that it is laid out in zones — similar to a manufacturing plant — with the ingredients and prep handled at the back, the cooking and assembly of plates in the center, and the service at the front. This zoned approach allows the entire kitchen team to work efficiently together to deliver meals to customers at a steady, predictable pace. Moreover, well-organized products and processes help the restaurants reduce waste and optimize purchasing to realize cost efficiencies as well.
2. Keep best practices in front of team members.
In a well-ordered restaurant kitchen like the one featured in the article, customer orders — along with recipes and instructions for executing those dishes — are front-and-center on monitors above the various stations.

While a seasoned line cook may not need to refer to the recipe every time, having critical details — the ingredient list, a reminder of the steps for cooking or plating each meal, or a countdown clock to ensure a table of diners is served all at once — helps reduce potential errors when the kitchen gets busy during a dinner rush.

3. Implement a quality control process.
Providing the recipe — or a checklist — alone doesn't guarantee adherence, however. When Dr. Pronovost first introduced his checklist, some thought that the simple list was unnecessary because doctors already "knew" all of those best practices. But when he asked nurses to observe doctors for a month, they found that at least one step was skipped in more than a third of patients. Restaurant chains address such potential gaps in consistency by having a kitchen manager who looks over each plate to ensure the recipe has been followed and meets the restaurant's standards. This in turn ensures that customers get consistently good meals, delivered in a timely manner.
---
( Click to enlarge 🔍 )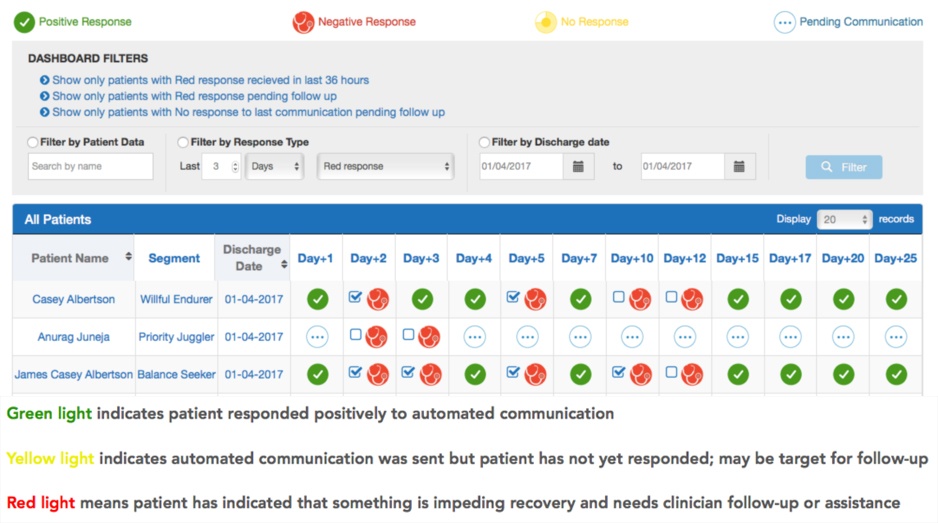 ( A dashboard tracks patient responses to communications, which solicit feedback throughout their recovery. )
---
In the hospital setting, Dr. Pronovost convinced the hospital administration to give nurses the authority to stop doctors if they saw them skipping a checklist step. He admitted some reluctance by all parties — nurses worried that the doctors would be offended, and some doctors balked at being told what to do by a nurse — but ultimately, the intervention to ensure that best practices were followed led to better outcomes and lower costs.
4. Know — and cater to — your customers.
A decade ago, Dr. Anastasia Gentles recognized a gap in the healthcare system for pediatric patients. As a pediatrician working at a children's hospital emergency room, she saw many children with complaints that were not serious enough for an ER visit, but couldn't wait for the next available appointment with their regular pediatrician. She teamed up with a friend with business experience, and one other partner to open NightLight Pediatric Urgent Care. The venture has thrived, expanding from a single location to five locations with more locations in the works. The clinics fill the needs for a specific market, and by focusing on urgent care only — no immunizations or wellness checks — Dr. Gentles allayed the fears of encroachment by traditional pediatric practices which earned the clinics more referrals.
5. Offer call-ahead convenience.
Some restaurants operate on a first-come, first-served basis; others require reservations. But what happens when a group makes a last-minute decision to go out to eat? Reservations-only restaurants may not have tables available and a "walk-in" may result in a long wait for a table. Many chain restaurants have online or call-ahead options to reserve a place in line. This allows the group to plan their arrival to minimize the time spent waiting around for a table. It benefits the restaurants too, since they can anticipate diner volume while reducing the uncomfortable crush that comes when a lot of diners are waiting in a confined space.

Spectrum Health in Michigan has followed this approach using an online reservation system called Clockwise. The system not only enables patients to reserve a spot in line at the urgent care, but it allows patients to see the wait time at all locations so they can choose the timing that suits their schedule best. Clockwise also sends a text message appointment reminder of the time and location. A platform like PatientBond not only automates text messages, but also other forms of digital communication such as emails and Interactive Voice Response phone calls, customized to patient communication preferences.

Of course, no one looks forward to a visit to the urgent care center as much as a dinner with friends at a popular chain restaurant. But by following some best practices used by restaurants to ensure consistent, high-quality products and services, you can dish up positive patient experiences that bolster your urgent care marketing and retention to keep patients coming back for more.
---
---