📢 3 Ways Urgent Care Centers Can Cut Through Language Barriers
Brent Walker, SVP Marketing & Analytics
|
March 24, 2017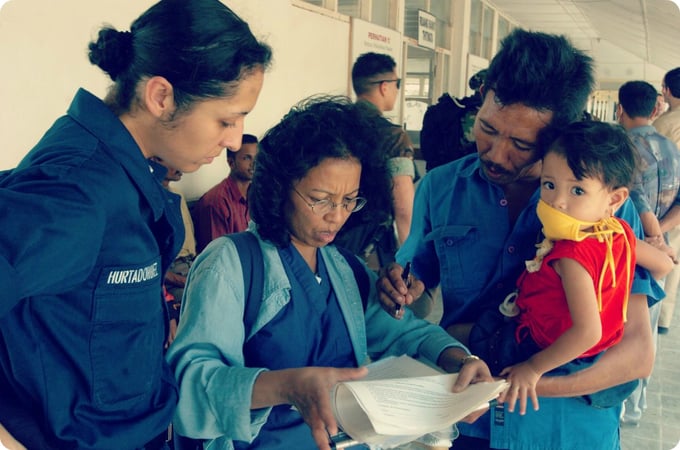 The number of U.S. residents that speak languages other than English continues to grow. U.S. Census data show that approximately 62 million foreign-language speakers call America home, a 94 percent increase since 1990. What's more, more than one-third of those people report they speak English "less than very well."
And, as Dr. Elizabeth Jacobs of the University of Wisconsin told Modern Healthcare, "It's not just a big-city problem," noting that "The largest rate of increase of limited-English-proficient people in our country is in rural areas."
Not surprisingly, healthcare providers — particularly those that attend medically underserved populations — often face challenges due to limited English proficiency (LEP) of patients. How can you bridge the communication gap caused by language barriers at urgent care centers?
What Impact Do Language Barriers Have?
A study conducted by the Pennsylvania Patient Safety Authority (PPSA) found that in 46 percent of emergency room visits involving LEP patients, medical interpreters were not used. PPSA also reported that analysis of adverse events at six Joint Commission hospitals found that than 52 percent of those involving LEP patients occurred due to communication errors.
And if it's happening in emergency rooms, then it's likely to be happening in other healthcare settings, including urgent care centers. Often such situations result in a family member or friend translating on the patient's behalf. If these impromptu translators misunderstand medical terminology or are reluctant to discuss sensitive issues, it can result in patients who fail to get appropriate diagnostic tests or follow-up. Not surprisingly, LEP patients frequently report lower patient satisfaction levels.
Laws Only Scratch the Surface
Effective lines of communication with patients — whether due to sight or hearing difficulties or limited English proficiency — are crucial to improving the health outcomes of medically underserved individuals and the broader population.
---
The Joint Commission outlines the laws that are designed to address the issue:
Title VI of the

Civil Rights Act of 1964 requires that any healthcare provider that receives federal funds notify patients of the availability of free medical interpreters, and written translations of vital documents — such as information about language assistance programs, intake forms, consent and complaint forms — for every LEP language group that represents 1,000 people or 5 percent of the population served.



Title III of the Americans with Disabilities Act

extends similar requirements to all healthcare providers — as well as pharmacies, exercise or recreation facilities, academic institutions and social services organizations — regardless of funding source.

---
Additionally, Informed Consent or Patient Bill of Rights laws — which can vary from state to state — require that explanations of the benefits and risks of treatment be accessible for all patients.
What Can Help Urgent Care Centers Engage with LEP Patients
Automated patient engagement technology can not only bridge the language gap of patients with LEP by delivery of messaging in the appropriate language, but it can also extend your reach with other medically underserved patients and helps deliver better outcomes.
Automated patient engagement can be used for a variety of purposes, all of which can be offered in the appropriate language, via the patient's preferred communication channel whether by phone, text or email. Here are three ways:
1. Appointment Follow-Up.
Reaching out after an appointment accomplishes several goals.

It reinforces your brand, building trust and loyalty. It offers the opportunity for you to understand each patient's experience with a quick survey. And it allows you to manage exceptions to recovery — rather than all patients — so that nursing staff can focus on those that need help while reducing the overall time spent trying to connect with patients by phone.
2. Medication and Care Plan Adherence.
Language barriers aren't the only challenge that medically underserved patients may face. Low health literacy — or even the natural stress that a person feels in a healthcare setting — often means that patients leave feeling overwhelmed by their experience. Using automated patient engagement technology to remind patients of care plans or prescription medications that need to be filled or refilled helps patients stay on the path to better health outcomes.
3. Wellness Reminders and Chronic Disease Management.
Some of the most common, costly and preventable chronic diseases, such as heart disease and diabetes, disproportionately affect medically underserved populations. Using automated patient engagement technology can help urgent care centers implement prevention-focused programs to motivate healthy behaviors or proactive programs to help patients manage chronic diseases more effectively.

While it can't replace a qualified medical interpreter, automated patient engagement technology like PatientBond complements programs designed to overcome language barriers at urgent care centers. In addition to delivering messages in a patient's preferred language, the PatientBond platform incorporates psychographic segmentation to help urgent care centers understand patients' attitudes, values and lifestyles.
Using these insights, urgent cares can develop targeted messages that resonate with patients and help motivate greater engagement — which translates to a crucial advantage when dealing with any medically underserved population.
---
---