3 Things Your Urgent Care Center Needs to Know About Yelp ⭐️ ⭐️ ⭐️ ⭐️ ⭐️
Brent Walker, SVP Marketing & Analytics
|
August 10, 2017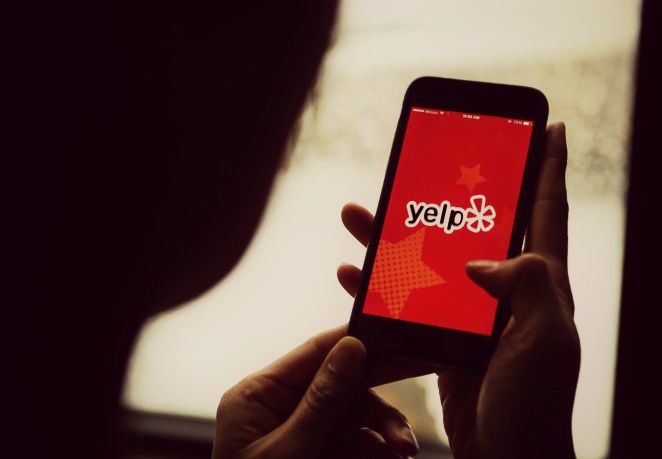 Since its founding in 2004, Yelp has served up more than 102 million reviews of local businesses. Given some of the headlines and viral stories those reviews have inspired, you might have the impression that Yelpers focus mostly on restaurants — like a crowd-sourced, regular-folks version of the Michelin rating system.
---
Yelp ratings proved to be significantly reliable sources for evaluating the differences across performance for potentially preventable hospital readmissions.
— Paul Howard, director of health policy at the Manhattan Institute.

---
But companies like Yelp or Angie's List offer ratings and reviews of many types of local businesses, including urgent care centers and other healthcare providers. And more sites, some of which are exclusively healthcare focused, like ZocDoc, are popping up all the time.
What's behind the review obsession? Blame it on healthcare consumerism. With more skin in the game, consumers are taking the same approach they use before other big-ticket purchases like new cars, appliances and major home improvements: online research.
As Paul Howard, director of health policy at the Manhattan Institute and coauthor of a recent report on crowd-sourced reviews of healthcare providers, comments: "'Dr. Google' is the first place consumers look for health information. Whether we like this or not, this train has left the station." Why not look at Yelpers as potential helpers for driving traffic to your urgent care center?
Make the Most of Urgent Care Social Media Reviews
Before the internet, social media and mobile came along, people who wanted to research an urgent care center usually turned to the phone book or called a friend or family member for a recommendation. Today, however, people are more likely to google "urgent cares near me" and then surf through the results to compare locations, costs and quality ratings before making a decision. Here's what you need to know.
1. Yelp reviews often reflect those from objective sources.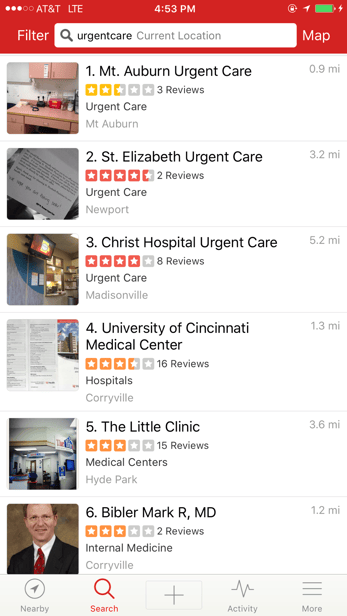 Some people discount the value of Yelp reviews, especially negative ones, because they believe the reviewer has a hidden agenda. Statistical analysis by FiveThirtyEight, however, finds that Yelp reviews of restaurants in New York City tend to align with the much-coveted Michelin stars, despite the fact that Yelpers don't use the same consistent set of metrics to determine the big winners and losers.
A New York Times article last year highlighted research showing similar alignment between results of Hospital Consumer Assessment of Healthcare Providers and Systems (HCAHPS) surveys and Yelp ratings. For example, a study led by Dr. Naomi Bardach, associate professor of pediatrics and health policy at U.C.S.F. Benioff Children's Hospital San Francisco, found a strong correlation between HCAHPS and Yelp ratings. The research also showed a link between high Yelp ratings, fewer readmission and better outcomes. Yelpers may eschew a scientific approach to reviewing products or services, but the results aren't less valid because of it.
PatientBond, which automates patient engagement through emails, text messages and Interactive Voice Response, also allows urgent care centers to leverage Yelp reviews as well as other forms of social media. PatientBond can engage patients with a short survey asking them to rate their experience with your urgent care center. It can post high ratings or, if the review isn't highly positive, use the insights to inform strategies for improving the patient experience.
2. Yelp reviews offer valuable insights not captured by formal HCAHPS surveys.
Even if an urgent care center, family practice or hospital uses a formal patient experience survey, they may not get a complete picture. The Times article reported that when Health Affairs analyzed the content of Yelp reviews, it turned out that reviews did cover most metrics covered by HCAHPS. Interestingly, the Yelp reviews tackled even more, covering 12 criteria not in HCAHPS assessments including convenience, cost, insurance and billing, the compassion and quality of staff and the care of family members.
---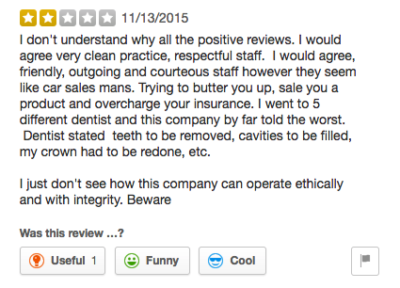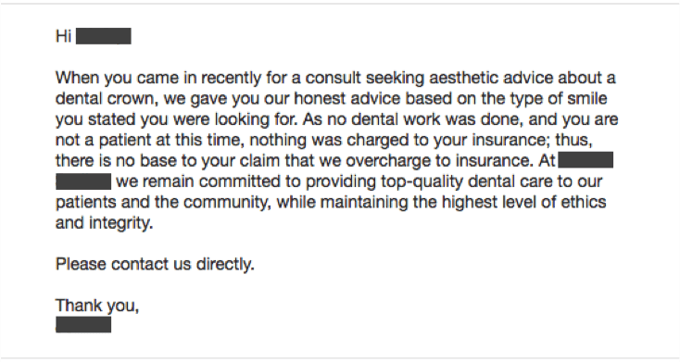 And because the formal surveys target patients, providers lack insight into another important influence on patient experience: family members. Their opinions may not be captured by HCAHPS, but you can be sure that patients are listening to input from family and friends — in person and online — before choosing an urgent care, physician or hospital. Providers that ignore Yelp or other urgent care social media reviews do so at their peril.
3. It's possible to respond to Yelp reviews without violating HIPAA regulations.
According to a Yelp blog, 84 percent of consumers turn to review sites to find a doctor. But healthcare providers are often reluctant to engage with patients on social media because of privacy concerns. To help healthcare providers respond to positive and negative reviews in HIPAA-compliant ways, Yelp suggests several best practices. Whether a review is positive or negative, healthcare providers should never publicly respond to a post in a way that shares patient information, including any confirmation that the reviewer is a patient.
---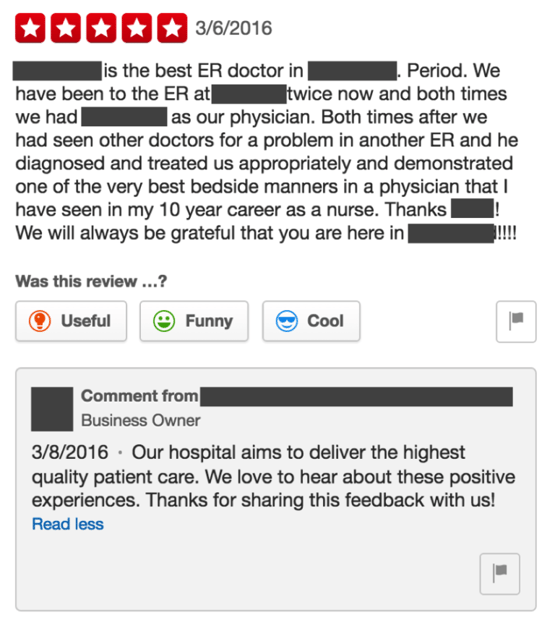 ---
The same is true if the response is provided via a private direct message. Instead, responses should be cordial and focused on the urgent care's policies or general statement. Direct messages can also encourage the reviewer to initiate direct contact for follow up. It's critical to remember that even if a reviewer posts personal health information, the public disclosure does not remove the burden of protecting patient privacy on the part of the healthcare provider.

Research conducted by the Manhattan Institute showed that "Yelp ratings proved to be significantly reliable sources for evaluating the differences across performance for potentially preventable hospital readmissions," notes Paul Howard.
While you can still look to formal surveys to gauge patient experiences, with proactive urgent care social media management, you can make the most of insights from Yelp to attract new patients, boost patient engagement, improve care and ultimately deliver better urgent care patient experiences.
---
---