📱 3 Tech Tools for Caregivers of Patients with Alzheimer's & Dementia
Brent Walker, SVP Marketing & Analytics
|
June 21, 2017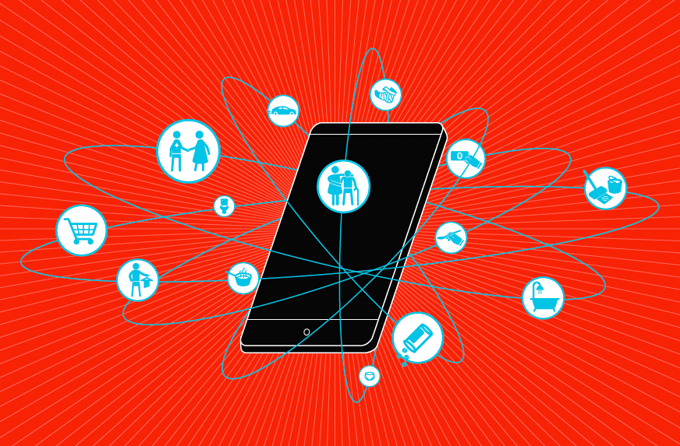 During June's month-long observance of Alzheimer's & Brain Awareness, the Longest Day on June 21 is designated as a "sunrise-to-sunset event symbolizing the challenging journey of those living with Alzheimer's and their caregivers."
Often in health observances, the role of family caregivers is overlooked. But according to the AARP 2015 Caregiving in the U.S. Report, Alzheimer's or dementia is consistently cited as one of the top three reasons that patients over the age of 50 require at-home caregivers.
Are you making use of senior care technology to help make your job — and the caregivers' — easier?
Is Senior Care Technology the Answer?
As with other areas of healthcare, technology can play a vital role. And among caregivers, interest in technology is high, with more than 70 percent expressing an openness to using senior care solutions.
Unfortunately, only 7 percent of caregivers are using technology for their caregiving duties, according to
Project Catalyst
research conducted by the HITLAB, a healthcare innovation technology incubator.
What's holding them back? Respondents indicated several issues:
Too many options without a clear understanding of which technology is best for their needs

Concerns about the costs of technology

A perception that technology will not offer significant advantages over the traditional care approach already in use
---
But if senior care technologies aren't easy to find, set up and use, caregivers won't embrace them. After all, they already feel the stress of caregiving on top of other work and family responsibilities. They certainly don't want to spend even more time searching for solutions, only to discover the technologies are complicated, difficult to implement or time-consuming to use.
Technology Innovators Focus on Elder Care Technology
Project Catalyst discovered that despite barriers, caregivers participating in the research did indicate interest in senior care technology to help with three major concerns.
1. Offer peace of mind when the family caregiver isn't with the care recipient.
Research shows that 60 percent of people suffering from Alzheimer's or dementia may wander off, creating a constant source of worry for caregivers. The prevalence of the issue — and one teen's experience with his own grandfather with Alzheimer's — inspired the invention of sensor socks that alert family caregivers if a patient wanders. The simple product, now being tested in nursing homes, shows promise. And it's not the only senior care technology that keeps caregivers and care recipients connected.
---
By 2020, the number of Americans who will need care assistance will reach 117 million.
---
As the Internet of Things (IOT) technology landscape expands, monitoring systems are becoming less costly. Rather than investing in a service that requires an up-front investment, plus monthly fees for ongoing monitoring, caregivers can go to a local home improvement store to put together a system that can be controlled and monitored from a smartphone.
A wide variety of sensors are available, allowing caregivers to customize the solutions to meet changing needs. In a CNN report on the use of such system, one caregiver said the use of sensors — like a front door sensor that sends an alarm text if the door is opened between 9 p.m. and 6 a.m. and a sensor in the kitchen that helps her keep track of whether her mother is eating regularly — are helping her mother live independently despite being in the mid-stage of Alzheimer's.
2. Improve medication management to help with daily adherence, as well as refills and delivery.
Medication adherence is a perpetual challenge, but it can be especially difficult with patients who have memory issues due to Alzheimer's, dementia or simply old age. Caregivers have many options, from med lockers that "release pills on a schedule" to apps that will send a text or phone reminder to take your medicine.
And pills aren't immune to the rise of sensor-driven technology. Kiplinger recently reported on an ingestible sensor the size of a grain of sand that is inserted in pill capsules. Patients swallow the capsule, and the sensor activates when it reaches the stomach, sending a signal to a wearable sensor patch on the patient's torso. The patch records the time the medication was taken, as well as the type of medication and the dose, sending on the information to a mobile device. When a pill is missed, a reminder is sent.
Not all senior care technology needs to be identified and implemented by caregivers. What technology should healthcare providers consider?
---

AARP — CAREGIVERS & TECHNOLOGY
---
Overcoming Caregiving Challenges with Patient Engagement Technology
If you're a healthcare provider who serves patients that struggle with self-care due to Alzheimer's, dementia or another health condition, you are likely working primarily with their caregivers — often spouses or adult children. This puts you in the perfect position to offer support to the caregivers.
3. Put patient engagement technology to work for caregivers
.
In the Project Catalyst research, many of the surveyed caregivers said they needed support for coordinating caregiving tasks and scheduling and remembering appointments.

Automated patient engagement technology like the PatientBond platform allows healthcare providers to push out a variety of messages — from educational materials to help caregivers cope with the care needs of their loved ones to reminders when medications need refilled, a patient visit needs to be scheduled or an appointment is pending.

By keeping a steady line of communication open with your patients' primary family caregivers, you help keep patients on track with care plans while also reducing the stress family members may feel when taking on an unfamiliar caregiving role.
---
"We're facing a caregiving cliff." With those words, Dr. Susan Reinhard, Senior Vice President and Director of the AARP Public Policy Institute draws attention to the need for a more robust support system for family caregivers, a group that is expected to reach 45 million people in the next three years.
The problem? By 2020, the number of Americans who will need care assistance will reach 117 million. Hospitals and other healthcare providers also face shortages, so providing suitable care will take a two-pronged effort.
Fortunately, the senior care technology market continues to expand — and such technologies offer providers, patients, and caregivers tools for dementia, Alzheimer's, and other mentally- or physically debilitating health concerns.
---
---