📱 3 Reasons to Use Patient Engagement Technology for Seniors' Chronic Care Management
Brent Walker, SVP Marketing & Analytics
|
May 12, 2017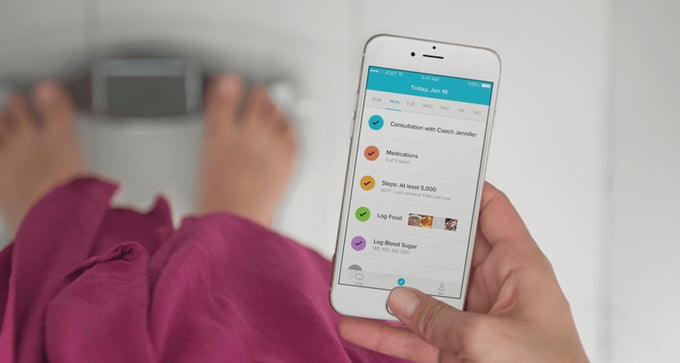 Support for using technology for chronic care management is on the rise. Interest began growing after the Centers for Medicare and Medicaid Services (CMS) added a new CPT code to allow reimbursement for remote monitoring of patients with two or more chronic conditions. A 2015 survey, for example, found that 92 percent of healthcare provider respondents planned to add programs to take advantage of the chronic care management incentive.
What's more, the support is going mainstream. Earlier this year, a Huffington Post article touted a tech revolution in chronic disease care. Noting that 75 percent of adults age 65 or older suffer from one or more chronic diseases, the article suggests, "Partly due to the growing baby boomer consumer market (every day for the next 10 years more than 10,000 adults in the U.S. will turn 65), more tech start-ups are shifting focus from millennials and focusing instead on apps for health and care-giving."
With voices outside of the healthcare industry clamoring for chronic care management tools — including those of aging Baby Boomers — healthcare providers need to get on board. Why should you tackle the issue?
Help seniors manage their health and reap the benefits
Three years ago, the Healthcare Information and Management Systems Society (HIMSS) made a case for embracing technology to aid in chronic care management. Authors Dr. Norma Lopez, Dr. Paul Seville and Dr. Jonathan Javitt acknowledged that "… traditional disease management approaches have largely failed because they are unable to target those who need focused outreach and take an ineffective and expensive 'scattershot' approach to patient engagement."
The time and administrative requirements for chronic care management have thus far limited pursuit of chronic care management. There hasn't been an efficient way to deliver and record the additional care for each eligible senior in a provider's patient population.
Fortunately, innovations continue to transform how hospitals and other healthcare providers help patients manage their health conditions more effectively.
Automated patient engagement technology enables a more consistent, highly-relevant approach to connecting with elderly patients.
Along with other patient-focused tools like patient portals, the Agency for Healthcare Research and Quality (AHRQ) says such chronic care management software can help "… to educate patients about their disease, their medications, and how they can self-manage chronic conditions such as diabetes, hypertension, or heart disease."
Take a pilot program that has been underway at Cincinnati-based chronic care management company PatientKinect. A customized solution using PatientBond patient engagement technology, PatientKinect sends automated messages that include prompts "to answer questions about whether they are adhering to the medications, diet and exercise prescribed by doctors." Owner and president Troy Evans explains, "We ask them a lot of questions, and then we analyze the data we are given by the provider and form a comprehensive care plan that is 100 percent tailored to each patient."
The PatientBond solution incorporates psychographic segmentation to classify patients by their beliefs, expectations and preferences as they related to health and wellness. These insights ensure that messages are tailored to each patient and sent via their preferred communication method — Interactive Voice Response, email or text — to drive positive interactions and results.
Automated patient engagement can help to increase patient care and satisfaction while lowering healthcare costs — including those related to staffing.
A convenient dashboard tracks care management campaigns, reducing the time needed for hands-on coordination and management because nursing staff can focus on the exceptions, who need immediate follow-up.

In a hospital pilot program, for example, use of the PatientBond platform led to a 75 percent reduction in monthly nurse full-time-hours dedicated to patient follow-up. With less time spent on making multiple attempts to reach patients, nurses can focus on the patients in their immediate care, resulting in improved in-office or in-hospital patient experiences.
---
---
Tools like the PatientKinect solution powered by PatientBond allow healthcare providers to meet the auditability standard for Medicare reimbursement of chronic care management.
Because patient interactions are scheduled and easy to track via a dashboard, healthcare providers have a clear audit trail of patient engagement. This may include sharing of educational materials, medication reminders and more — all sent with easy-to-use response mechanisms that track which patients are engaged.

Since Medicare reimbursement for auditable chronic care management averages $44 per month per patient, healthcare providers can increase billings by more than $52,000 annually for every 100 patients who actively participate through the automated system. The total increase in billing for providers for approximately 36 million Medicare patients with two or more chronic conditions could be in excess of $17 billion.

At the conclusion of the HIMSS article, the authors predicted, "Twenty-first century healthcare will be shaped by mobile technologies that move healthcare from a location-based (i.e. hospital or doctor's office), episodic process to an anytime, anywhere, continuous process that is as mobile as we are. In that way, mHealth will fundamentally transform the way healthcare is delivered."
A wealth of new elder care technology is likely to enter the market as organizations move to meet the needs of an aging population. When combined with automated patient engagement technology, healthcare delivery isn't the only way patient experiences will be transformed. Hospitals and seniors can reduce preventable readmissions, improve health outcomes and lower medical costs.
Get your copy of the whitepaper below:
---
---